In July 2023, Aviso introduced a range of user-centric improvements and novel functionalities encompassing revamped call dashboards, concise call summaries, real-time reporting, and intelligent call and email insights. This article explores these features in-depth, showcasing their potential to elevate sales performance and confer a competitive advantage.
1. Enhanced Buyer Insights through Conversational Intelligence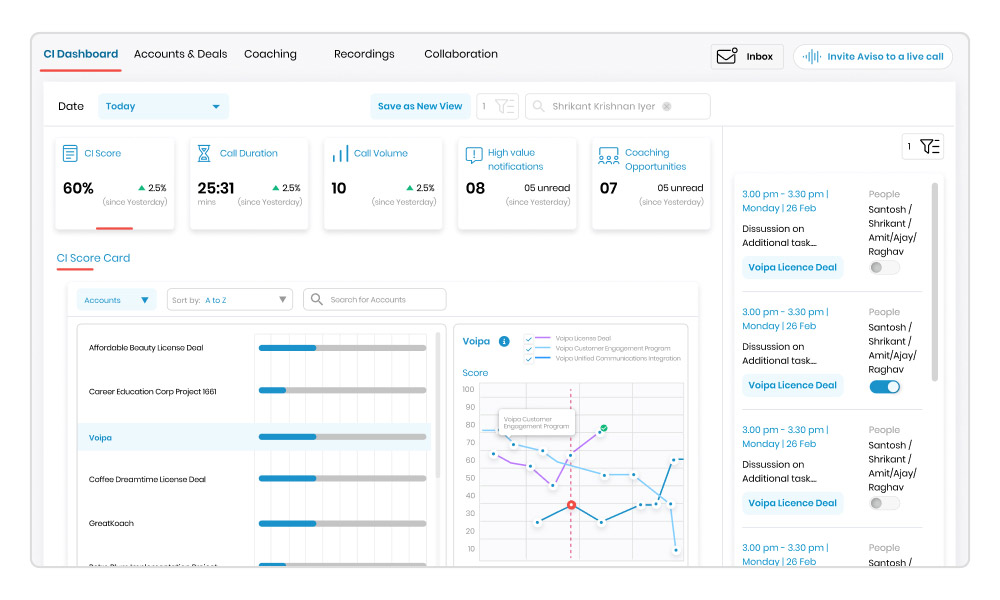 What is it?
Historically, dashboard elimination was suggested for smarter actions in a changing market. Analyzing buyer and seller interactions in sales calls yields vital insights—customer feedback, preferences, and pain points—driving targeted improvements. At Aviso, we're integrating analytics into action points, reshaping Business Intelligence. This minimizes analytics' prominence, emphasizing actions and outcomes and enhancing decisions through advanced insights.
The Aviso platform provides five buyer metrics cards - (Under CI Dashboard)
Buyer score

- The Buyer Interest Score is a quantifiable metric that measures a prospective buyer's level of interest and potential purchase intent. It considers engagement, competitor influence, next steps, and sentiment scores. The score is categorized into three buckets: Good, Average, and Below Average; this metric provides insights into the prospect's interest and guides sales toward more promising leads.

Call Duration

- Get a drill-down view of the number of meetings. You can filter the data by deals, accounts, and sales representatives. The call duration is presented in counts, giving insights into the number of meetings conducted. Monitor call durations to understand the frequency and duration of your sales interactions.

Call Volume

- Get a detailed breakdown of the time allocated to meetings, with the option to filter the data by deals, accounts, and sales representatives. The call volume data, measured in hours, offers a comprehensive overview of the total time devoted to sales conversations. Utilize this valuable information to monitor your team's sales activities and detect patterns or trends in call volume.

High-Value Notifications

- Get AI-generated suggestions based on Conversation Intelligence insights. These suggestions help sales teams identify potential actions to increase the likelihood of successfully closing deals. Use these actionable recommendations to optimize your sales strategies and maximize your chances of success.

Coaching Opportunities

- Get AI-generated suggestions to improve the performance of sales representatives. These suggestions identify specific areas for improvement and provide valuable insights for coaching and training purposes. Leverage these opportunities to enhance the skills and effectiveness of your sales team.
Where to find it?
Collaboration Workspace > CI Dashboard
How does it help?
For Leaders
- Effective lead prioritization through Buyer Interest Score.
- Strategic decision-making aided by prospective buyer insights.
- Guided sales efforts towards more promising opportunities.
- Increased chances of deal success with AI-generated recommendations.
For Managers
- Quality insights from monitoring call duration and frequency.
- Identification of optimal engagement patterns for refined strategies.
- Data-driven decision-making to enhance sales interactions.
- Team performance improvement using insights from Coaching Opportunities
For Analyst
- Actionable insights through AI-generated High-Value Notifications.
- Evaluation and enhancement of sales reps' effectiveness with Performance Scores.
- Refinement of training programs utilizing Coaching Opportunities data.
2. Actionable Call Summaries, Not TLDRs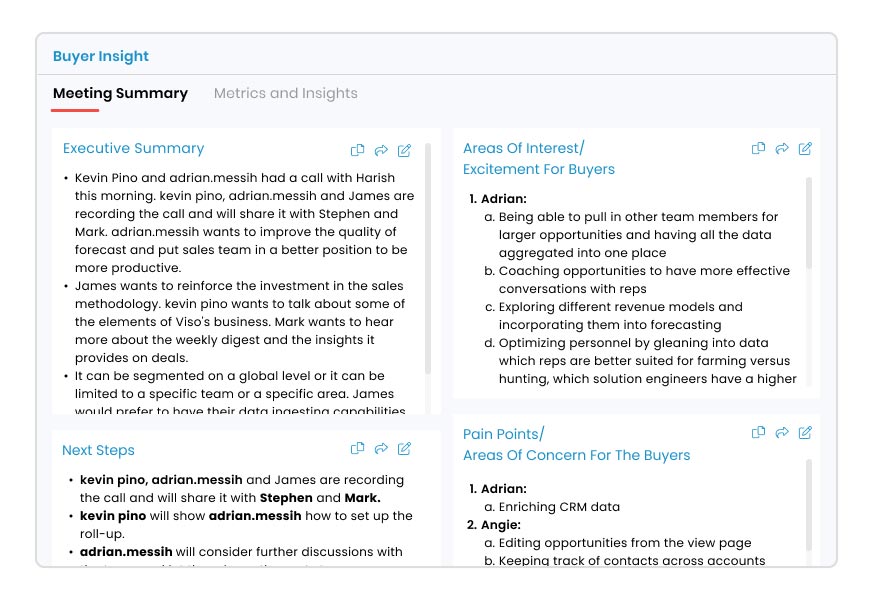 What is it?
As businesses evolve, analytics should support users with deal insights that are more digestible and quick to consume. Today's call summarizers show a big paragraph of call insights that could be more intuitive, especially for leaders. Along with providing a bulleted meeting summary, Aviso's Conversational Intelligence platform now shows insights into conversation starters, areas of interest and concern for buyers, and next steps. The platform uses computer vision and the "Mehrabian effect" to capture non-verbal cues on the calls to give a more accurate interpretation of a buyer's sentiment. Additionally, the Aviso platform is more CRM friendly, as the next steps can be saved within the CI interface.
Where to find it?
Conversational Intelligence > Accounts & Deals
How does it help?
For Leaders
- Quick decision-making with concise deal insights.
- Insights into conversation starters, buyer concerns, and next steps.
- Effective guidance for teams and strategic engagement.
- Swift comprehension of deal dynamics for impactful decisions
For Managers
- Efficient understanding of key call points and focus areas.
- Streamlined team communication using succinct call summaries.
- Informed coaching decisions based on readily available insights.
- Improved coaching and performance management with quick insights.
For Analyst
- Efficient extraction of pertinent information from call summaries.
- Enhanced understanding of buyer sentiment through non-verbal cues.
- Comprehensive insights into client disposition for accurate analysis.
- Streamlined workflow and collaboration through CRM-friendly features.
3. Gain Revenue Visibility & Track Sales Progress with Mobile Reports
What is it?
Aviso users no longer rely only on laptops to view revenue reports for decision-making. Introducing Aviso mobile reports, carefully designed for mobile viewing experience without compromising data quality and insights. Now, while being on the go, RevOps leaders can access four revenue-critical reports -
Pipeline Progression:

Get real-time insights into the sales pipeline's dynamic changes, evolution, and influencing factors.

Win & Loss:

Track the win/loss ratio over time and work towards improving it.

Current Quarter Progression:

Monitor the real-time progress of sales deals in a given quarter.
Rep Activity: Evaluate sales representatives' performance and activities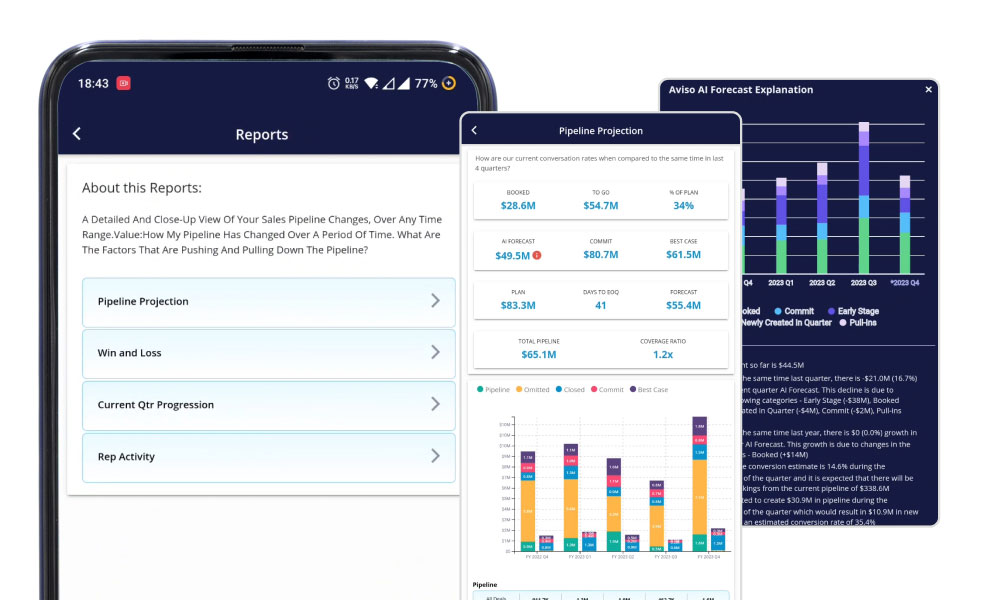 Where to find it?
Aviso Mobile App > More Tab > Reports
How does it help?
For Leaders
- Informed decision-making with on-the-go access to revenue reports.
- Quick strategic adjustments through real-time insights into sales pipeline changes.
- Location-independent decision-making for enhanced efficiency.
- Improved revenue visibility without being limited to laptops.
For Managers
- Continuous improvement through tracked win/loss ratio.
- Real-time monitoring of sales deal progress within the current quarter.
- Efficient sales management with dynamic insights.
- Data-driven decisions based on performance insights of sales representatives.
For Analyst
- Refinement of sales strategies via data-driven insights.
- Self-evaluation of selling activities using the Rep Activity report.
- Comprehensive grasp of sales performance and areas for enhancement.
- Seamless access to revenue-related data for effective analysis and decision-making.
4. New Leaderboard Metric - No. Of Deals in Advanced Stage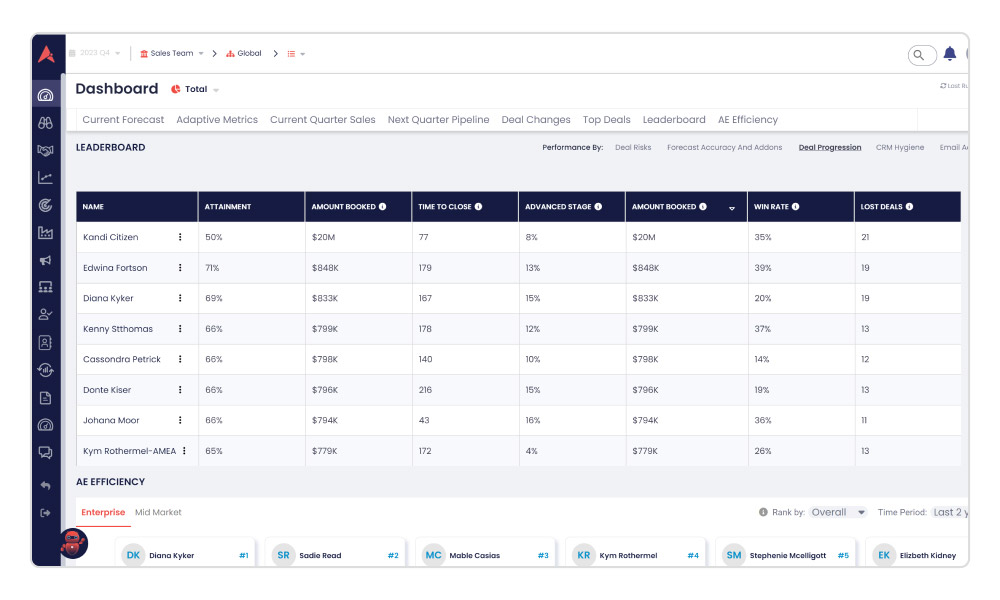 What is it?
Aviso users can now track the % of the total amount of deals in the advanced stage against every sales rep on the leaderboard.
Where to find it?
Aviso Dashboard > Leaderboard > Performance by Deal Progression
How does it help?
For Leaders
- Direct measurement of deal progress using % of deals in advanced stage metric.
- Identification of high-performing reps excelling in advancing deals.
- Insight into the sales team's impact on revenue goals.
- Recognition of effective deal management strategies for reinforcement.
For Managers
- Tracking team progress via % of deals in advanced stage metric. The more, the better for quota attainment.
- Identification of improvement areas based on lower percentages.
- Tailoring of coaching and support for reps in final sales stages.
- Enhancement of deal advancement strategies for improved performance.
For Analyst
- Additional data points for assessing sales performance trends.
- Insights into factors influencing success in advancing deals.
- Contribution to informed decision-making through understanding patterns.
- Identification of critical factors influencing advanced-stage deals for strategy enhancement.
5. Topic Model 2.0 For Smart Call Transcript And Email Analysis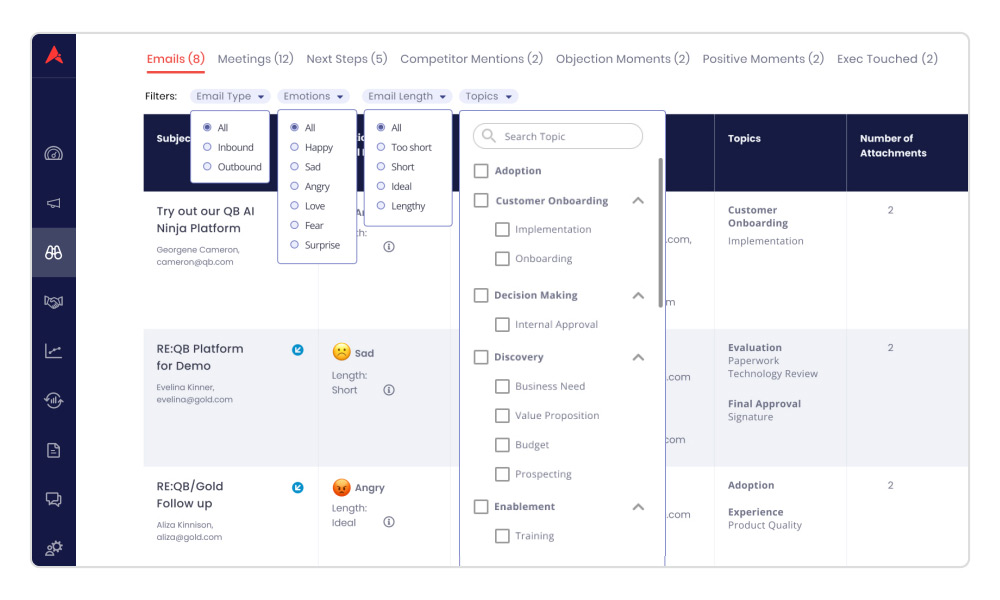 What is it?
With Topic Model 2.0, Aviso now comprises 40+ topics spanning the entire sales life cycle; the model is context-based, ensuring precision in its analysis. These topics are readily accessible as they come prepackaged, offering a streamlined experience. Leveraging extensive sales interactions, the model has been trained comprehensively, enhancing its ability to extract valuable insights and deliver improved user performance.
Where to find it?
Aviso Smart Transcript and Email Insights
How does it help?
For Leaders
- To get hold of opportunities that are at risk for immediate intervention
- Comprehensive grasp of sales interactions with 40+ context-based topics.
- Insights from diverse sales conversations drive informed decisions.
- Precise analysis of objection handling for refining management strategies.
- Effective guidance for teams using insights spanning the sales life cycle.
For Managers
- Streamlined analysis through readily available prepackaged topics.
- Efficient extraction of insights from call transcripts and emails.
- Improved coaching and performance assessment with identified topic trends.
- Utilization of insights related to successful deals for enhanced coaching.
For Analyst
- Deeper insights from sales interactions using Topic Model 2.0's enhanced precision.
- Identification of patterns, trends, and correlations for strategic decision-making.
- Adaptation of sales strategies based on emerging market trends from conversations.
- Comprehensive model for optimizing sales performance across the entire life cycle.
To wrap up, the July 2023 updates to the Aviso revenue intelligence platform are a game-changer. They reshape how sales teams collaborate, analyze calls, track deals, and gain insights. This shift from traditional dashboards to integrated analytics signifies a bold leap in Business Intelligence. By embracing these changes, businesses empower themselves with smarter, more efficient decision-making. The future is here, and Aviso leads the charge toward data-driven success.
If you aren't a customer yet, talk with our team now to see a demo of Aviso.