Traditional meeting dashboards tend to inundate sales managers with excessive data, often lacking actionable insights, leading to information overload—an issue prevalent in many organizations. Despite the effort put into defining performance metrics and tracking data, it's not always clear how to apply the information effectively.
Aviso's smart Conversational Intelligence (CI) Dashboard aims to combat this challenge. Unlike traditional meeting dashboards that display basic call insights like talk ratio, keywords, and topics, the CI Dashboard is a comprehensive tool that provides valuable insights and suggestions based on conversation analytics. It enables users to track buyer interest, leverage AI-generated recommendations for the next best actions, and analyze call volume and duration.
Let's glance into the week in the life of a sales manager using smart cards on Aviso's CI Dashboard -
Unlock Buyer Insights with Aviso's Buyer Interest Score.
Upon login, the system presents the sales manager with a Buyer Interest Score. This score provides a consolidated measure of prospect engagement. It analyzes vital buyer metrics such as interest level and potential purchase intent, amalgamating them with engagement, competitor data, next steps, and sentiment scores, using a predefined algorithm to derive a single score. This score is then categorized into three buckets: Good, Average, and Poor.
Benefit
Armed with the Buyer Score, the manager can swiftly identify the most enthusiastic and promising prospective buyer. Moreover, it equips them with insights to prioritize sales efforts towards leads displaying higher purchase intent. Additionally, the Buyer Score offers Next Best Actions and Coaching Opportunities on a per-rep basis.
Enhance Deal Progress with High-Value Notifications
The manager transitions to High-Value Notifications. Here, they encounter a curated list of AI-generated suggestions that facilitate the execution of the most effective follow-up actions. The system lists suggestions like upsell opportunities, deal stage updates, etc. These recommendations serve as invaluable guides for sales representatives, enhancing their interactions with prospects and customers.
Benefit
The High-Value Notifications empower the manager to streamline and monitor follow-up actions and develop strategies for personalized engagement.
Optimize Sales Efforts with Call Volume Intelligence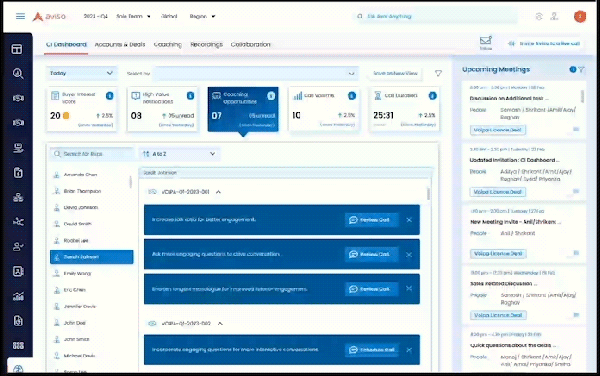 The manager then delves into the Call Volume card, a dynamic lens to get a drilled-down view of the time spent by reps in meetings. The call volume is presented in hours, providing an overview of the total time dedicated to sales conversations. Deals, accounts, and sales representatives can filter the call data.
Benefit
By examining call volume, managers gain valuable insights into their team's sales efforts. They can spot trends in call volume, pinpoint where most of their time is invested, and identify which deals are converting. Ultimately, this enables smarter resource allocation and optimization.
Within the Call Volume Intelligence feature, Aviso's advanced algorithms provide users with a Users can then apply meticulous filters to unveil the intricate tapestry of their interactions.
Improve Conversations with Call Duration Analytics
Lastly, using the Call Duration acts like a sophisticated compass guiding sales managers toward more effective communication strategies by reviewing the team's number of meetings. The call duration is presented in counts. Like the Call Volume metric, call data can be filtered by deals, accounts, and sales representatives. Each call becomes a data point, an opportunity for refinement, and a step towards enhanced sales performance.
Benefit
By analyzing the duration of each call, the manager can chart a course toward more effective and impactful sales conversations. This insight helps understand the frequency and duration of your sales interactions, providing actionable intelligence to elevate the quality of interactions and drive superior sales outcomes.
Call Volume and Call Duration eventually contribute to the accuracy of the buyer interest score.
Additionally, Aviso's CI Dashboard offers an integrated workflow feature, allowing managers to drill down into specific accounts, deals, or reps to understand the data better.
First-Level Drill-Down
Upon selecting any of the cards above, users can initiate a first-level drill-down, choosing from three key options:
By Accounts: Dive into account-specific data for a detailed view.

By Deals: Analyze data about specific deals.

By Reps: Focus on individual sales representative performance.
Second-Level Drill-Down
In the second level of drill-down, after selecting an account, deal, or rep, users can access a distribution graph showcasing relevant data:
Accounts: Deals are arranged in ascending order based on the Buyer Interest Score, enabling users to assess each deal's potential at a glance. Hover-over functionality provides additional deal details and direct access to deal pages for comprehensive information.

Deals: Calls associated with the selected deal are presented in ascending order, offering insights into the performance of each call.
In conclusion, Aviso's CI Dashboard transforms how sales managers interact with meeting data by presenting the data overload into actionable insights, empowering sales teams to make informed decisions, drive engagement, and close deals with precision. With its intuitive design and AI-driven recommendations, it's poised to revolutionize how organizations approach sales analytics.
Ready to unlock actionable deal insights with Aviso's Conversational Intelligence? Book a demo today!