Aviso AI marked its eminent presence at the Marlin Equity Partners Revenue Leaders Conference, 2023 held at the Four Seasons Hotel in Nashville, TN. The conference's theme, "Winning Together in the New Normal," couldn't have been more timely. With the marketplace going through unparalleled shifts, understanding how businesses can pivot, adapt, and thrive is the need of the hour.
The event was not just about celebrating successes, but also about collaboration, understanding, and evolution in today's complex business landscape.
Highlights of the Event
Over a period of two days, the conference saw a gathering of over 110 attendees, including the top-tier executives from various industries such as CEO, CFO, COO, CRO, CMO, CCO, and RevOps, as well as representatives from Marlin.
Trevor Rodrigues Templar, President & CEO of Aviso AI, led a thorough roundtable discussion at the event, touching upon pivotal topics that resonated with multiple GTM challenges. The energetic and interactive participation and keen insights of these leaders made the event a valuable learning experience.
Key Takeaways from the Roundtable Discussions
Trevor led a roundtable discussion that revolved around several crucial aspects:
Unified Revenue Teams:

The integration of sales, marketing, and customer service as a single revenue team presents significant advantages. By collaborating closely, these departments can function as one cohesive team that generates revenue more effectively.

Managing Multigenerational Sales Reps:

The discussion here focused on the dynamics within a sales team that consists of individuals from different age groups and experiences. The key takeaway was the necessity to foster a work culture where younger reps can learn from the seasoned ones and vice versa, ensuring a mutual exchange of knowledge and best practices.

Leveraging AI for Sales Productivity:

Artificial Intelligence (AI) has the potential to revolutionize many aspects of sales and marketing. For example, AI can be used to make the process of onboarding or training new sales representatives quicker and more efficient. This ensures that these reps are ready to hit the ground running in less time.

Cost Consolidation & Vendor Value:

With CFOs looking to streamline costs, there's a need for strategies to manage and consolidate costs efficiently while extracting the best value from existing business partnerships and vendors.

Enhancing Predictability:

For businesses, especially those in sales, predictability is crucial. Internal strategies, playbooks, and processes can help businesses forecast sales and revenue more accurately, ensuring better alignment with business goals and expectations.

Navigating Business Challenges:

Businesses need to maintain a

delicate balance between managing a reduced sales pipeline (or fewer opportunities) and meeting the high expectations set by the board or stakeholders.
The overarching sentiment of the conference was about charting one's path in the business landscape.
It's essential for each company to tailor these best practices and strategies to their unique situation and needs. What's successful for one company might not necessarily be the best strategy for another.
How Aviso AI is Making a Difference
In line with the discussions at the conference, Aviso AI has been at the forefront of using AI to help businesses navigate the challenging waters of the new normal. Here's how:
Unified Revenue Teams:

Aviso's AI solutions facilitate seamless collaboration between sales, marketing, and customer service, ensuring a coherent strategy for revenue generation.

Aviso's AI Engine

consolidates your sales stack and ingests historical and current data from all customer interactions

(email, phone, meeting schedulers, Zoom, Slack, CRM, tickets, etc.)
Sales Rep Productivity:

Through its advanced algorithms, and generative AI features like MIKI, Aviso aids in shortening the ramp-up time for sales reps, making them field-ready in record time.

Aviso has developed a comprehensive insight engine of rich AI functionality for sales professionals and offers guided coaching insights in real-time – Prescriptive Analytics or Next Best Actions that you can take from anywhere. Nudges & weekly digests provide custom notifications about pipeline shifts, next best actions, and deal risk to all revenue team members, accelerating the sales process.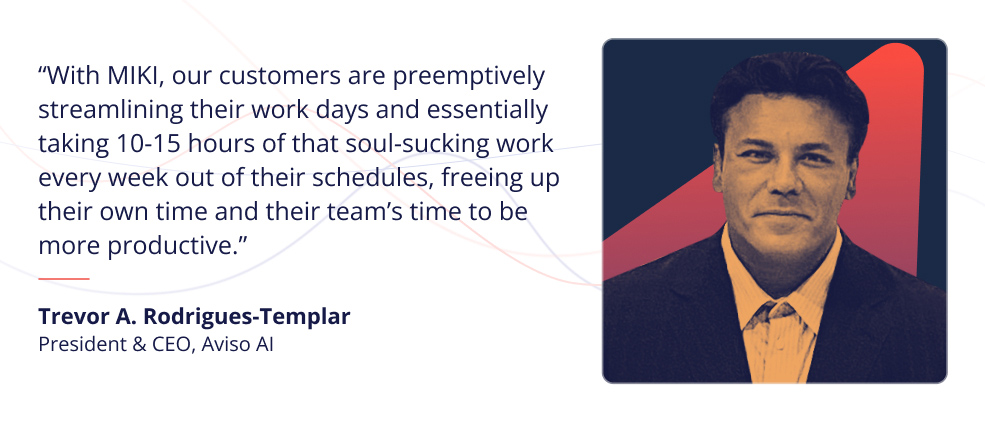 Predictive Analytics:

Aviso's tools are designed to provide businesses with accurate commit predictability, enabling them to plan effectively and meet their targets consistently. Aviso's new-age capabilities around revenue intelligence include unified forecasting (

top-down and bottom-up forecast

) that blends the best of human and AI judgments with the most sophisticated global roll-up forecasting in the industry.

Cost Management:

Too many incumbent CRMs, CRM bolt-ons, and one-trick pony AI tools have added to bloat for sellers, CROs, CIOs, and CFOs.

Aviso's

single pane of glass platform natively contains all the core workflows GTM teams need in an RO&I platform

. This helps businesses optimize their operations, leading to

better cost management

and increased value from partners.
Trevor, and Aviso, are on a mission to help GTM teams and revenue leaders such as Honeywell, New Relic, DataStax, Armis, and RingCentral to apply the power of AI guidance at every step of their revenue work. For instance, Honeywell leveraged Aviso's AI platform to build a unified global forecasting process, and made over $150M in incremental revenue while saving over $1M in CRM license costs! Aviso's program with Honeywell was profiled by Harvard Business Review. No wonder Aviso's customers have all standardized on Aviso to manage revenue, gaining over 55% net new revenue per rep, 39% higher win rates, 160% higher pipeline conversion rates, and over 31% faster sales cycles.
Earlier this year, Aviso unveiled MIKI, its home-grown AI Chief of Staff. MIKI has been revolutionizing how Aviso customers obtain quick answers to complex questions, eliminating the need for extensive time and staff support, and increasing productivity across the board.
Book a demo with Aviso AI today and discover the power of AI-driven insights tailored to your business. Let's embark on a journey to success, together.