In a world where a mere 15% of businesses truly understand their customers, and where 70% of contact data become outdated each year, capturing sales activities and finding new champions quickly becomes a business imperative.
In this ever-evolving business landscape, the power of relationships emerges as the key to success in B2B sales .
Discover how Relationship Intelligence is supercharging sales, and unlocking revenue success by turning every business connection into a potential success story.
What is Relationship Management
Relationship management is a strategic approach that organizations employ to cultivate a positive relationship with their customers. It focuses on transforming each customer interaction into an opportunity for repeat business. By understanding customer needs and providing exceptional support, relationship management aims to establish customer loyalty and satisfaction.
How Customer Relationship Management Works
Customer Relationship Management (CRM) tools are crucial in this strategy, serving as the powerhouse for maintaining customer relations. They streamline and analyze substantial data, revealing invaluable trends for future marketing initiatives. The goal is to enhance customer experiences and bolster customer retention.
CRMs act as centralized hubs for data collection, automatically recording crucial information like customer contact details, correspondence, and purchase history. By integrating with calendars and emails, they bring teams together, ensuring seamless communication and collaboration.
Why CRM Fails at Relationship & Engagement Tracking
However, CRMs aren't without their flaws. They often struggle with forecast execution gaps, single-threaded deals, and insufficient or poor-quality data. A large percentage of CFOs observe a disconnect between forecasting and deal execution. Additionally, a considerable chunk of the forecasted pipeline is single-threaded and susceptible to risk.
CRM data is a lagging indicator of your deal activities as it is dependent on sales teams' input and human bias, resulting in incomplete or missing data. While sales reps are trained for transactional selling, it is impossible to track all the activities necessary within today's complex selling environment, where on average, a sales rep is dealing with 20 – 25 people on the account and 8 – 10 decision-makers.
In short, closing new business and retaining existing customers is difficult if you just rely on CRM. With the amount of data available today, it is critical to harness this information to manage your sales activities and relationships to bolster growth.
What is Relationship Intelligence
In the realm of relationship management, Relationship Intelligence (RI) is the frontier technology that accelerates deal discovery and closure. While traditional CRM systems may lack actionable relationship insights, RI illuminates the path to the people who can help close high-quality deals. It's the secret ingredient to capitalizing on robust relationships and missing out on no potential opportunity.
How Does Relationship Intelligence Work
At its core, RI employs machine learning models and AI algorithms to dissect every interaction between people within a firm and their contacts. It extracts invaluable data from emails, meetings, and other engagements, providing insights into relationship strength and reach. It goes beyond just recording who knows who - it gives a relationship strength score, painting a detailed picture of your firm's network. By processing and analyzing this data, RI uncovers new opportunities, making the firm more efficient and competitive.
Why is Relationship Intelligence Important for Sales & Revenue Teams
The power of RI lies in its ability to unlock new opportunities and nurture key relationships. It automates the tedious process of finding the right contacts, saving hundreds of hours annually, and enabling teams to focus on higher-value activities. RI gives firms a competitive edge, allowing them to connect with the right person at the right time. By automatically updating contact and company profiles, RI eliminates time-consuming data entry, making deal sourcing and management more efficient.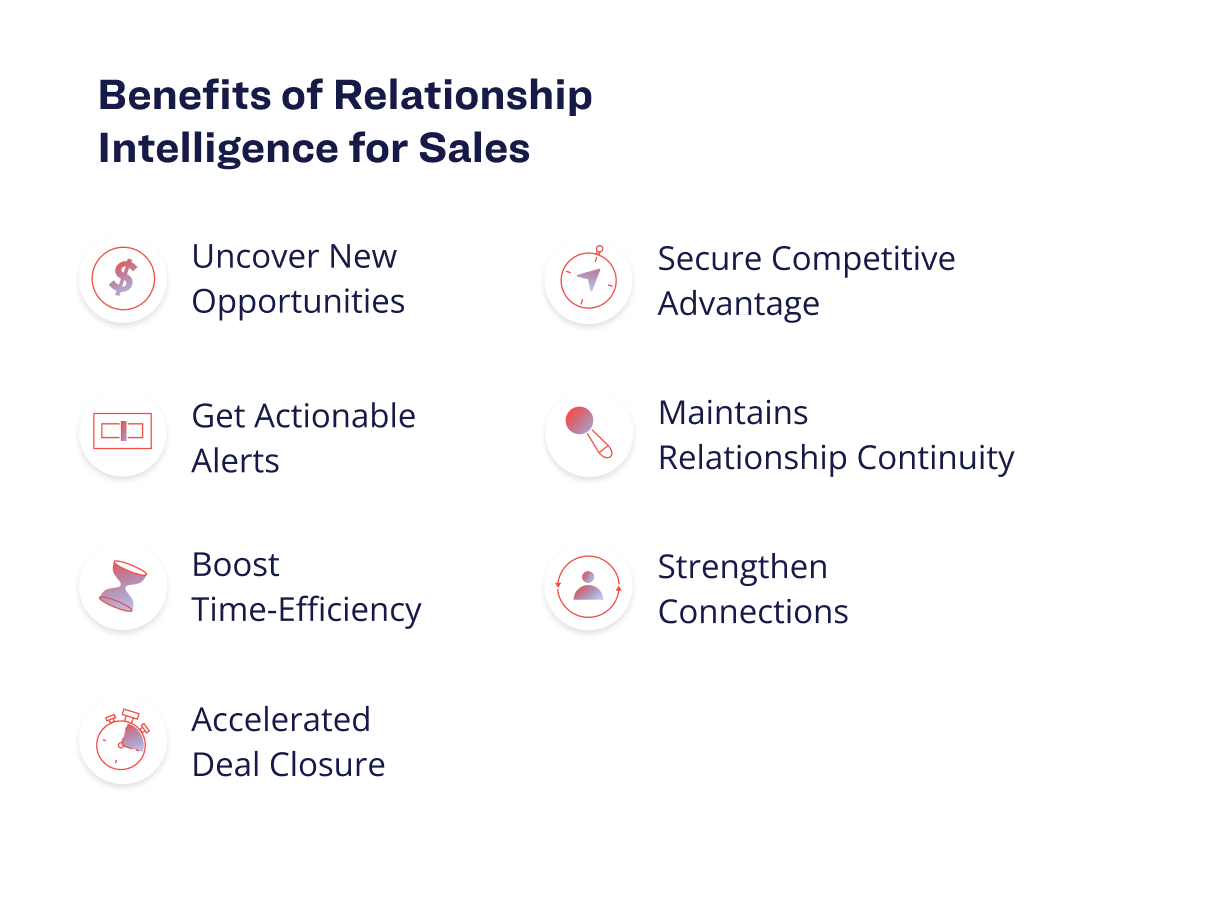 Uncover New Opportunities

: Relationship intelligence helps in discovering unseen opportunities by identifying better connections within your network.

Get Actionable Alerts:

Sets up real-time alerts notifying you about significant changes within your connections, such as job changes, content publication, or news features.

Boost Time-Efficiency:

Saves time by eliminating manual data entry, automatically creating and updating contact and company profiles.

Accelerated Deal Closure:

It speeds up deal closures by providing insights into the strength of relationships and suggesting the best path to engage with a potential contact.

Secure Competitive Advantage:

Provides firms with a competitive edge by identifying the right person at the right time, resulting in more effective deal sourcing and management.

Maintains Relationship Continuity:

Helps mitigate churn risk by discovering the next-best contact for an account in a timely manner.

Strengthen Connections:

Analyzes email threads and recommends relevant connections you can make, further strengthening your network.
Unlocking Revenue Success With Aviso Relationship Intelligence
Aviso's Activity and Relationship intelligence help you look beyond CRM, it gathers sales activity metrics via analyzing seller and buyer interactions. It structures and analyzes over a billion data points across emails, calendars, and third-party sources and allows teams to look at the rep and team activity, and provides leading indicators to help improve forecast accuracy and deal guidance. It combines sales activities and relationship analysis into a single initiative and helps analyze the level of engagement between sellers and buyers:
Are meetings scheduled on the calendar? Are prospects accepting or declining meetings?

Are emails flowing back and forth between both parties?

Are the emails lengthy/short, whether questions are asked or answered?

Are the interactions happening with the right set of individuals?

Has the proposal been accessed online by the right decision-makers?

Who is the next best contact if a champion leaves the organization while the deal is active?
By analyzing the above and other leading indicators at the deal level (and not account level as some of our competition does), Aviso's AI platform helps you visualize the level of engagement the buyer has with sales and provide insights about their intent to make a buying decision and where the relationship is headed. Sales management, armed with this analysis, now has the metrics to see the status of deal flow through the pipeline and can determine which sellers are doing better than others. This, in turn, allows managers to allocate their precious coaching time to the deals that have the most impact.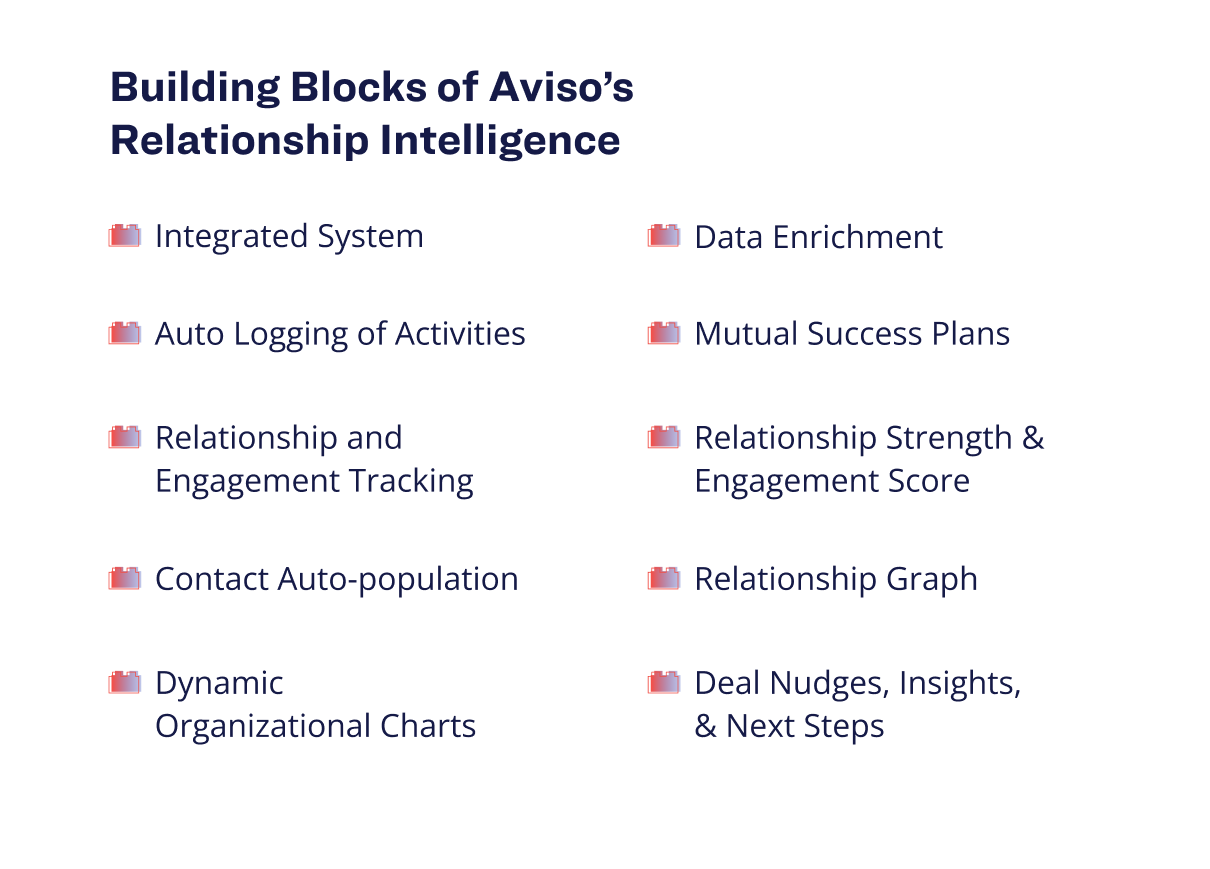 Integrated System:

Merge activity and people intelligence for a comprehensive customer view.

Auto Logging of Activities:

Extract activity data from emails and calendars for real-time updates and suggestions.

Relationship and Engagement Tracking:

Monitor engagement through interaction and email content analysis.

Contact Auto-population

: Auto-enrich customer contact details in CRM using signature parsing and platforms like LinkedIn.

Dynamic Org Charts:

Present deal-specific organizational views with engagement data, sentiments, and meeting schedules.

Data Enrichment:

Enhance CRM data quality with added parameters and secure walled gardens.

Mutual Success Plans:

Utilize AI to set, oversee, and sync on sales milestones ensuring process adherence.

Relationship Strength and Engagement Score:

Evaluate deals and contacts based on buyer intent and relationship health.

Relationship Graph:

Showcase an evolving graph of relationships, suggesting ideal contacts per sales stage.

Deal Nudges, Insights, and Next Steps:

Alert reps about risks and provide actionable insights for deal progression.
Conclusion
In a business landscape where relationships matter, Aviso brings the power of Relationship Intelligence to the forefront. By bridging gaps in traditional CRM systems and automating the discovery of new opportunities, Aviso empowers sales and revenue teams to harness the full potential of their network. With Aviso, the future of relationship management is here, and it's more efficient, powerful, and intelligent than ever.
<<Do you really want to know what's happening beyond the walls of your account? Get 1-year free access to Aviso's Relationship & Activity intelligence and win more deals with stronger buyer relationships. Avail this limited time offer by submitting this form.>>
To know more, book a demo with Aviso now.