MIKI AI Assistant Debuts at New York Stock Exchange
REDWOOD CITY, CA. May 15, 2023 – Aviso, the only end-to-end AI revenue operating system, announced today the launch of MIKI, the industry's first AI-powered Chief of Staff for Revenue and GTM teams. MIKI is a purpose-built, assistive front-end on top of the Aviso platform. MIKI makes accessing, updating and acting on insights from CRM, Cloud Databases, ERP, emails, recorded meetings, and other GTM datasets faster, more conversational, and actionable. Fueled by Aviso's proprietary Time-Series database that has generated over 500B insights, analyzed over $1Trillion in pipeline, and created over $550B in total won deals across its customers, MIKI – which stands for Machine Intelligent, Knowledge Interface – provides the quickest way to conduct AI-driven analysis, recommendations, automation, content generation and execution assistance for GTM activities.
A Trusted and Secure Way to Bring Generative AI into B2B
Generative AI has opened the door for faster summarization, analysis and content generation, however security concerns around ChatGPT in B2B remain for IT and business buyers. Due to ChatGPT's open nature, and the sensitivity around customer data in CRM, call recordings, digital interactions and emails, more enterprises have restricted using the popular open source Large Language Model in the workplace. More than 90 percent of executives believe in Generative AI's ability to improve decision making, however less than 20 percent were willing to use ChatGPT in their revenue and GTM activities according to a recent survey. Aviso's encrypted, highly secure frameworks are designed to handle structured and unstructured data, allowing customers to run different scenarios and prompts based on over 1,000 different signals. These frameworks can be further personalized based on buyer seniority, emotions identified during calls, or aspects driving sentiment to generate data-informed, high quality messaging for buyers.
"We believe Generative AI functionality can deliver immediate results and change how they work long term, but only when the underlying core models are robust and accurate in highly secure private environments. This grants our customers the ability to safely observe, explore, detect patterns from proprietary data sets, and act on them across industries in real-time," said Trevor Rodrigues Templar, CEO of Aviso AI. "We're confident this helps our customers like Honeywell, New Relic, Mural, Armis and DataStax turn Generative AI from a nice to have, into the preferred interface and workflow for faster action."
AI Constructs that Act as the Next Best Thing to a Chief of Staff
MIKI helps deliver personalized decision making at scale, leveraging the unique knowledge graph that Aviso has for each industry, customer, persona and individual user. The proprietary AI improves a sales rep or GTM member's meeting notes frequency in any field in CRM – whether Salesforce, Dynamics or other CRM/ERP systems of records – via automated workflow and simple text or voice interactions. MIKI automates Next Best Action synchronized to the individual's calendar to increase the timing and likelihood of the rep taking action. Notifications surface insights into buyer emotion and propensity to buy now vs later based on each interaction the contact has with the company. MIKI can then generate content personalized for key executives at target accounts based on prompts that are automated like earnings call summaries and analysis, notifications on key customer events, executive departures or champion moves or changes.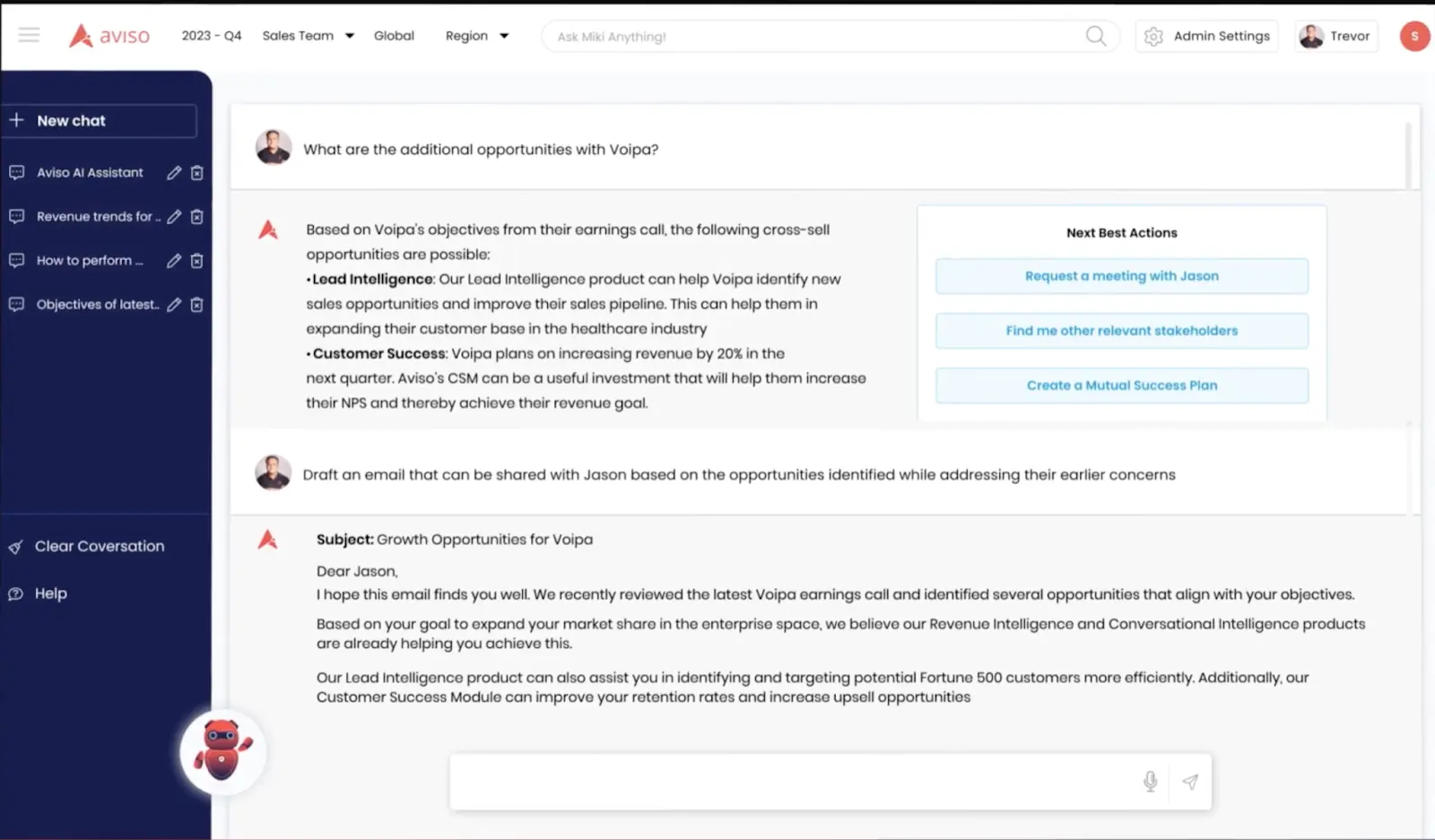 *MIKI by Aviso AI is a next-generation interface powered by Generative AI
"With MIKI, I don't need to do any more note taking or updating next steps or mutual close plans or weekly forecast or deal reviews; MIKI does it for me based on my guidance and revenue history," said the CRO of a Fortune 50 global industrial organization and early beta customer of MIKI. "I love how MIKI is delivering on the promise of personalization at scale leveraging our unique knowledge graph for each team and end user."
Aviso's end-to-end AI revenue platform helps Fortune 50 enterprises and fast growing companies gain a competitive advantage with a single platform that brings Generative AI together with customer, deal and prospect data captured within Aviso and federated with external systems. MIKI first debuted at the New York Stock Exchange, and will continue its debut tour on May 16 and 17 in Las Vegas at Gartner's Sales Leader Conference.
About Aviso AI
Aviso is the AI-guided Revenue Operating System that helps sales and go-to-market teams accelerate growth, win more deals, and reduce risk. Aviso AI delivers integrated revenue intelligence, drives team-wide actions and course corrections, and augments sales teams while reducing the burden of CRM. With demonstrated results across industry leaders such as Honeywell, Seagate, Elastic, Armis, RingCentral, and Marlin Equity Partners, Aviso works at the frontier of AI across deep learning, speech recognition, decision science, and computer vision.
Aviso is backed by Storm Ventures, Scale Venture Partners, Shasta Ventures, and leading Silicon Valley and global technology investors.