"The key to getting the most out of technology, especially in the RevOps space is to simplify day-to-day selling workflow and ensure the tools you invest in get adopted consistently by all sellers."

—

President of a Global Software Giant
Aviso AI has been striving towards this endeavor over the years while guiding its customers to achieve consistent growth in their corporate value drivers and key performance indicators (KPIs). Aviso has been tracking its customers' success metrics over the years since they transitioned to Aviso. It centers the customers' revenue operations and selling experience activities onto the AI-guided workflows and signals to help their sales teams run deals and make clients offers they "simply cannot refuse".
The biggest concern that Revenue Operations and Sales leaders have while analyzing the return on investment (ROI) on a sales technology is understanding the potential performance upliftment the company has achieved. It needs to be analyzed both strategically in terms of revenue and market share as well as at the bottom line. Aviso has helped its customer portfolio achieve improvement numbers in all the sales and revenue metrics across the board (see figure below).
Average ROI Across Aviso Customers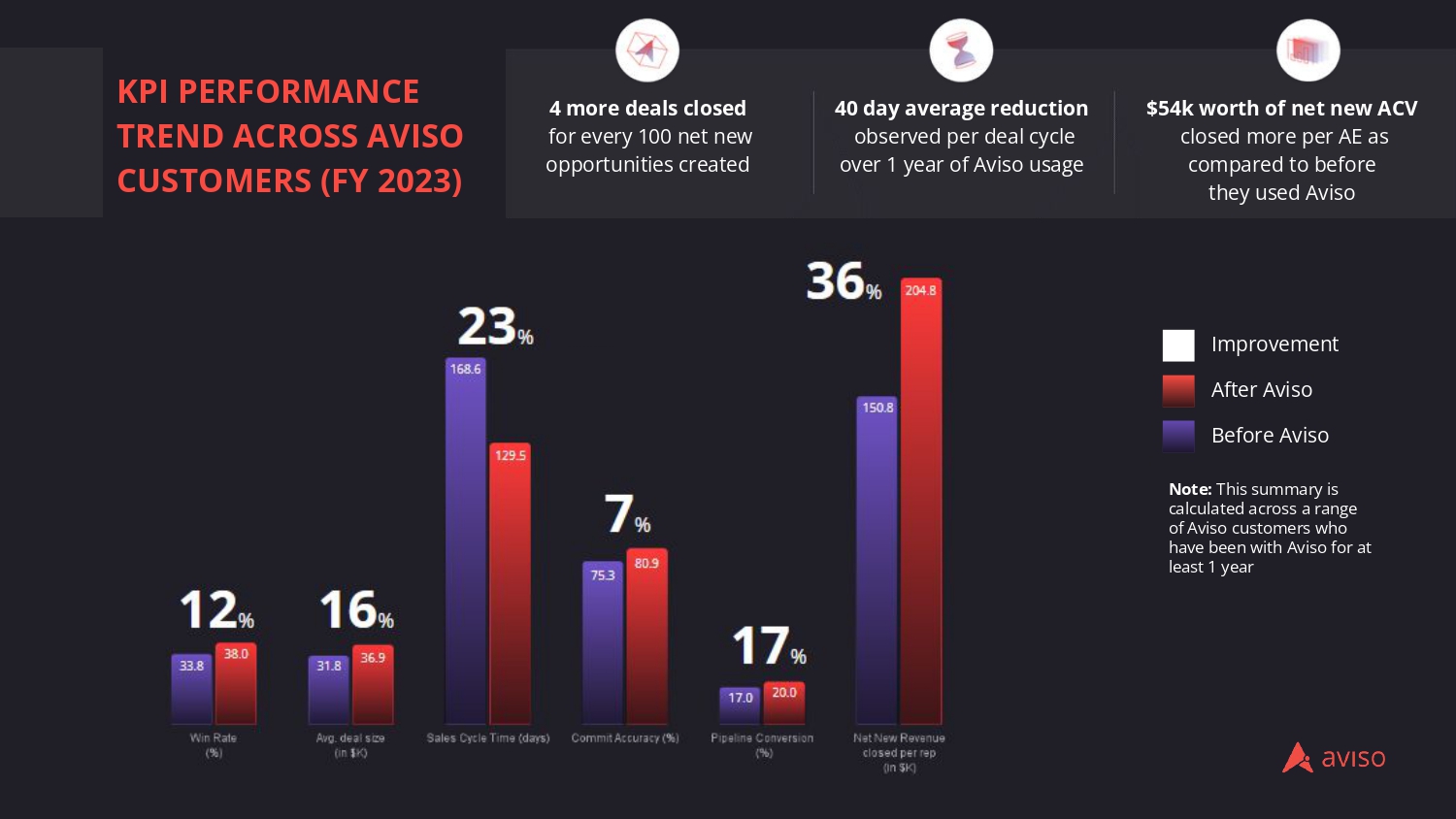 Note : KPI improvement percentages are treated as relative and have been calculated as a ratio of the previous (before Aviso) value
The KPIs that Aviso tracks and analyzes for its customers to help them determine their ROI are explained below.
Win Rate:
The most fundamental KPI to measure the performance of any sales team is the net new opportunities they win out of the total pursued opportunities forecasted to be closed in a particular time frame (quarterly or annually). An efficient AI-guided technology will help reps to foresee potential deal risks and carve out a strategy and engagement plan to get the deal over the line.
With Aviso winscores, customers have observed an average

5-10% improvement

in their closed-won rates over a period of one year.
Average Deal Size:
Another major KPI we have been tracking for our clients is their average deal size across opportunities. This is a tricky metric to measure the performance of the sales team but improvement in this can be interpreted in two ways:
The deals are becoming more sophisticated through improved deal quality compared to the volume at scale.

Reps are understanding the clients better and able to cross-sell or upsell more products in their deals.
Either way, it shows an increase in gross revenue realized as a result of the improved average deal size.
Aviso with its AI technology has helped clients to see a

15-20% improvement

in average deal size sold.
Sales Cycle Time:
Perhaps the 'coup de grace' KPI to any non-performing sales rep is the inability to close their deals in the forecasted or designated time. This not only hampers the probability to close that deal altogether but also affects the rep to put the time into other deals which subsequently impact their risk portfolio.
Sales cycle time is probably the most valuable metric for RevOps because it causes a ripple effect on other metrics subsequently. Technologies like Aviso gain importance in the selling process due to a variety of real-time nudges, advanced ML-guided signals, and activity intelligence that significantly impact the selling efficiency.
We have seen Aviso customers have an average

improvement of 25-30%

in their sales cycle time which is a

reduction of around 1-2 months

.
Commit Deals Accuracy:
Another critical performance indicator for sales leaders is out of the deal pipeline committed by reps in a particular quarter and how many they are able to close successfully. This shows that reps have a solid grip on their pipeline and prospects, and are able to gauge the risk portfolio in their pipeline accurately.
Aviso helps reps to view their opportunity grid and gauge the probability of deal closures in their pipeline at any stage through its AI-powered forecasting. They are able to determine how much booking volume they will be able to commit and have a forecast. This gives sales leaders accurate visibility on the revenue to be brought in by their reps and how they can balance resources and time to achieve maximum sales efficiency for their team.
Using Aviso, our clients have realized an average

8-10% improvement

in commit deals accuracy.
Pipeline Conversion Rate:
This indicator helps reps gauge the pipeline bookings in any particular quarter and the new bookings won by reps. This KPI is focused on assessing the top-line impact of the total pipeline as opposed to the conversion by volume. This is relevant, especially for companies relying on enterprise deals and requiring strategic executive sponsorship in some cases.
Aviso customers, a mix of enterprise and mid-market focused players in their selling structures, have seen on average

20-25% improvement

in their booked pipeline conversion rate.
Revenue Booked Per Sales Rep:
Rather than tracking a broader, overall revenue growth as a KPI, Aviso observes the productive revenue growth that sales reps are tapping and bringing into the company.
Increasing sales rep productivity and performance is the strategic goal of a revenue leader in any organization. With Aviso's integration across other platform technologies and selling processes, reps can set coaching schedules and automate CRM admin work to be more productive and efficient. This also helps sales managers in measuring and benchmarking rep performance to identify top rep behaviors and improve overall team performance.
Aviso has observed on average

35-45% improvement

over a year for its customers' revenue bookings growth per their sales reps. Reps have been estimated to close

almost $54k in booked ACV

more post Aviso implementation than before.
Conclusively, we can say that the common denominator amongst the companies investing in technologies to streamline their RevOps is focused on outperforming their peers through a primary objective of creating value for their salespeople.
After observing the above KPIs over a period of time, Aviso has proved to be successful with its cutting-edge AI technology and ML learning models to drive sales teams' productivity and performance, and overall revenue growth.
If you want to invest in Aviso and want to understand your true return on investment with what you are purchasing, visit this one-of-a-kind Value Estimator or engage with our Value Engineering team to help you do so.