At Aviso, we're dedicated to enhancing your experience based on your feedback. In August 2023, we rolled out product upgrades that simplify access to Earnings Call data, offer deeper insights through Multi-Level Sankey Charts, facilitate relationship tracking with Dynamic Org Charts, and more. These upgrades, driven by your input, are designed to empower your revenue operations. In this blog, we'll dive into the details of these enhancements.
1. Know Your Accounts Better With Earnings Call Analysis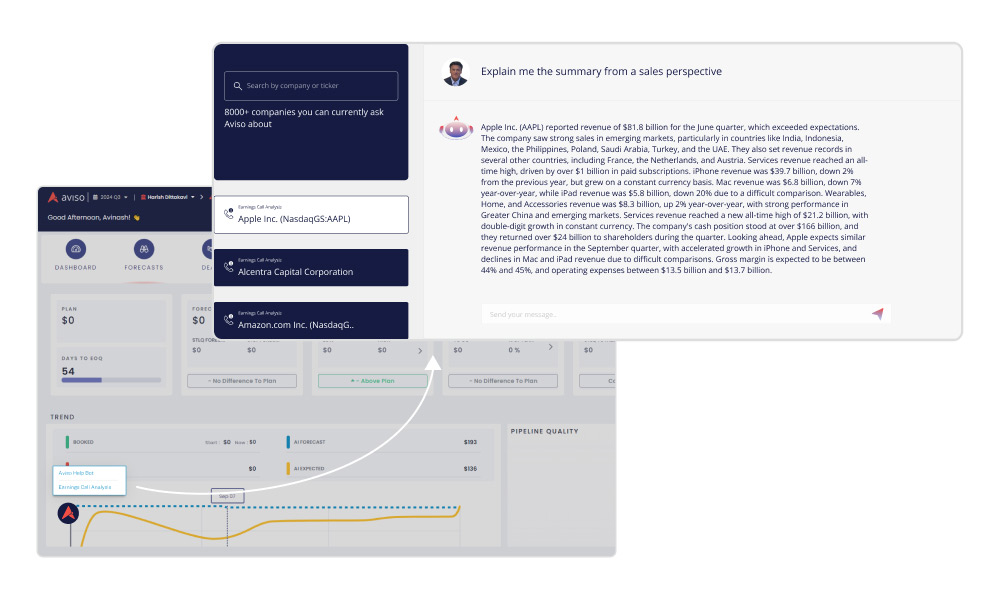 What is it?
Account research for Aviso users became a lot more efficient. Earnings Call Analysis cuts through volumes of transcripts, news, and email communications of Fortune 300 companies and generates valuable insights within minutes. The Earnings Call Analysis screen shows the list of Earnings Call reports on the left navigation pane. The user can either click on the desired account or request a particular report by entering a query in the search bar by the name or ticker symbol of the company.
Here are eight ways Earnings Call Analysis can make your analysis better:
Revenue Performance Insights:

Review total revenue figures growth rates and identify significant product or market segment contributions.

Customer Trends Analysis:

Discover insights about changes in customer preferences or behavior and note any shifts in market demand discussed during the call.

Competitive Landscape Review:

Compare accounts to competitors in the market and understand strategies to differentiate your company.

Sales and Marketing Initiatives Overview:

Stay informed about new product launches, market expansions, and pricing strategies.

Forecast and Guidance Examination:

Examine revenue forecast's alignment with growth expectations and identify specific revenue targets and goals.

Operational Efficiencies Assessment:

Find discussions on improving operations and cost optimization and explore initiatives for process improvement and productivity.

Risks and Challenges Evaluation:

Understand potential risks and challenges and learn about mitigation strategies.

Investment in Technology and Innovation:

Discover technology investments like AI and machine learning.
Where to find it?
Homepage > Floating MIKI icon (bottom left corner) > Earnings Call Analysis
How does it help?
With Aviso's MIKI, AI Chief of Staff, revenue leaders can make quick investment decisions, fine-tune sales strategies, identify growth opportunities, and efficiently align revenue targets with market dynamics, ultimately leading to increased sales and revenue generation for their organizations.
2. Dive Deeper into Pipeline Progression with Multi-Level Sankey Charts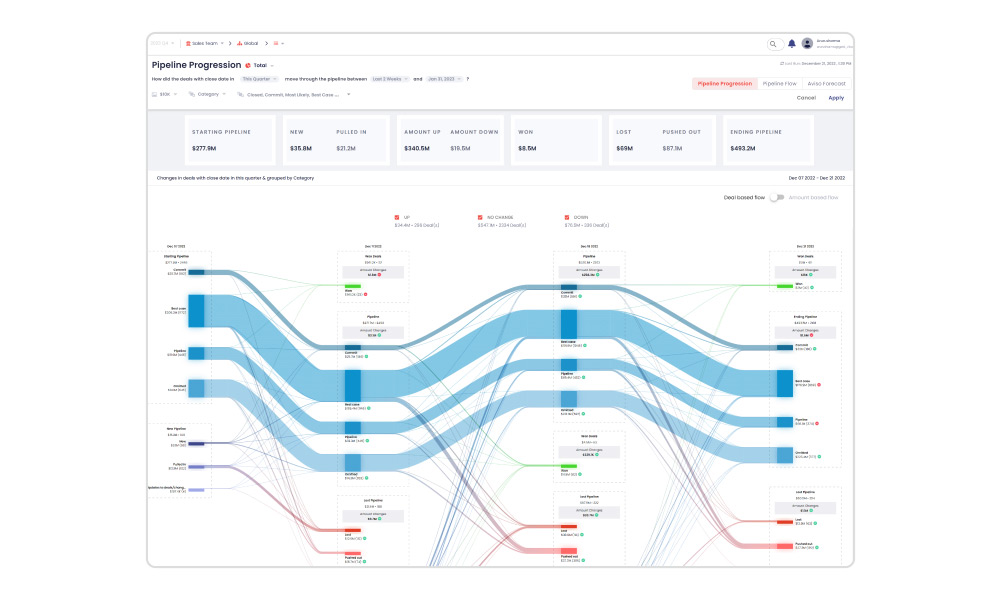 What is it?
Sankey charts have been a great solution to track the flow of the deals between two focal points (months) in a given timeframe. However, it doesn't provide a micro view of what is happening within their pipeline between the two focal points. That's where Multi-Level Sankey Charts come in handy, enabling the flexibility to pick and choose the timeframe. By navigating the pipeline across multiple months/weeks/quarters, revenue leaders can track the months that generated the highest and lowest revenue. Users can pull historical deal progression data from as far back as six years. Further, Multi-Level Sankey Charts help track the status change of the deals compared to their forecast at the pipeline start and the assigned rep for those deals.
For instance, the chart above gives a clear view into the status change and amount change of commit deals between Dec 7, 11, and 18.
Where to find it?
Dashboard > Analytics > Pipeline Progression Tab
How does it help?
The primary benefit revenue leaders gain from using Multi-Level Sankey Charts for pipeline progression is the capacity to make data-informed decisions leading to better business outcomes. This chart offers a comprehensive and adaptable view of pipeline data, enabling revenue leaders to identify revenue-generating months and track individual deal owners' performance. Additionally, it aids in pinpointing areas for improvement and accurately monitoring changes in deal status relative to initial forecasts. With more profound insights into their pipeline and the ability to evaluate deal owner performance, revenue leaders can optimize resource allocation, refine strategies, and drive revenue growth with greater precision and confidence.
3.
Track Relationships Better with Dynamic Org Charts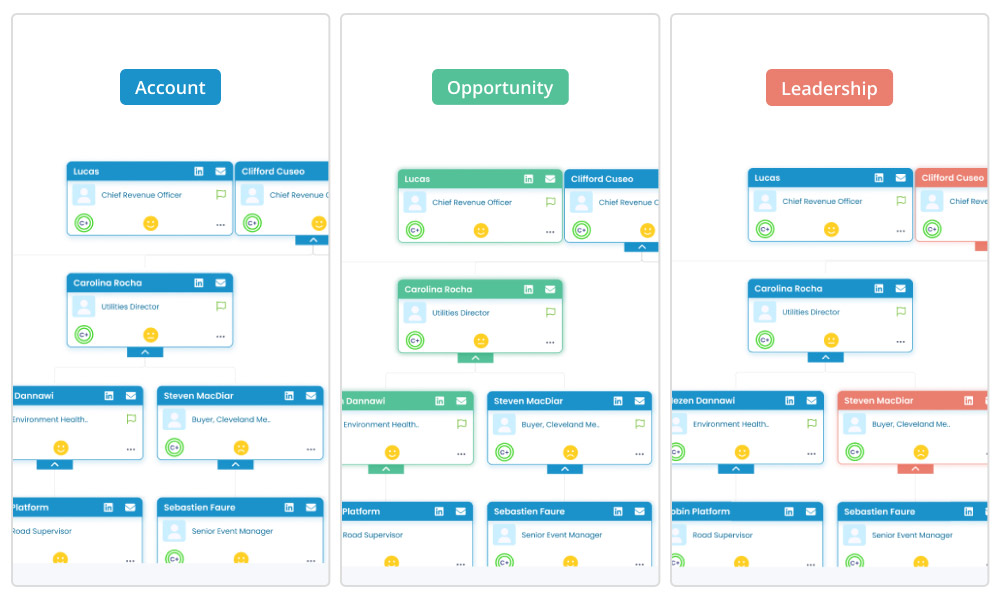 What is it?
Your buyer's workforce and reporting structure are indispensable prerequisites for conducting more inbound and personalized communications. A birds-eye view of the buyer's complete organizational structure gives insights into all the personas in that company. However, the comprehensive org view is not as helpful when understanding the key members from the buyer side associated with a specific opportunity. For instance, if the seller wants to identify the sales champion from the buyer's side for Deal A and Deal B, the complete org chart makes tracking difficult, especially if the buyer's company is a large enterprise with complex organizational structures.
With Aviso's Dynamic Org Charts, users can build three types of relationship representations -
Account-Based Org Chart - For viewing the complete reporting structure of the buyer's org

Opportunity-Based Org Chart - For viewing only the relevant POCs for a specific opportunity

Executive-Based Org Chart - For viewing only the leadership team who are decision-makers and economic buyers
Where to find it?
Deals Module > Click on any Deal > Org Charts > Account - Opportunity - Executive
How does it help?
Aviso's dynamic organizational charts give revenue leaders and sales representatives a tangible edge by simplifying buyer communication and relationship development. By obtaining a thorough grasp of the buyer's organizational framework, it becomes more efficient to pinpoint crucial contacts. This, in turn, allows businesses to build comprehensive account-based marketing strategies, leading to enhanced conversion rates and return on investment (ROI). Consequently, these improvements contribute to more favorable sales outcomes.
4. Get Notified About Upsell Recommendations with Email Nudges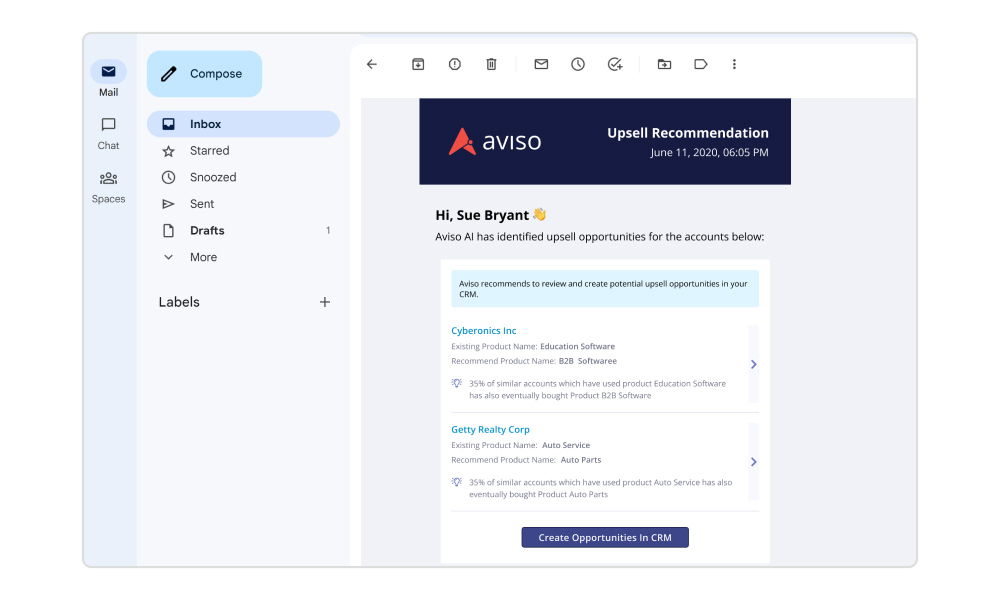 What is it?
Aviso users don't have to wait to log into the system to learn about potential upsell opportunities. Now, Aviso will send an email nudge with recommendations for upsell opportunities that are unnoticed in your pipeline.
Where to find it?
Email inbox and notification center.
How does it help?
Reps spend less valuable time updating CRM, searching for information, and acting with precise guidance. Aviso's system of nudges is designed to provide friendly and timely notifications to help different roles take rapid actions on deals when the underlying reality of those deals changes.
5. Get a Better Deal View with Actual and Snapshot Modes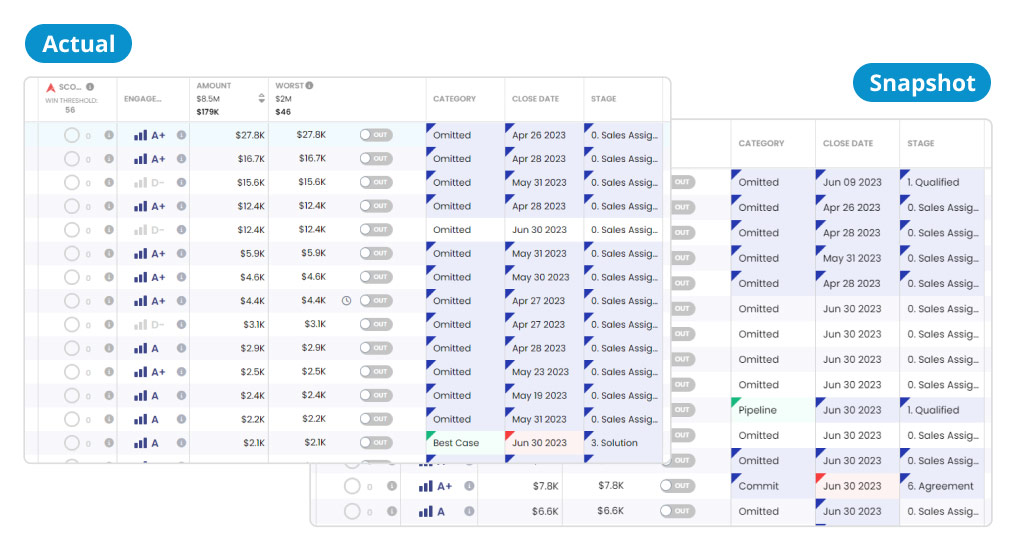 What is it?
In the fast-paced business world, keeping track of ongoing deals and their progress is crucial. Imagine you're managing a list of business deals that evolve. It's essential to accurately represent these deals, not just for the present moment but also for any specific point in time, be it a quarter, a month, or the entire year. Aviso allows you to view deals in two ways:
Actual View -

This view is your window into the real-time status of your deals. It shows you exactly how things stand at any given moment. If a deal changes in CRM or Aviso, you see those changes immediately. It is invaluable for making decisions based on the most up-to-date information.

Snapshot View -

This view allows you to freeze time. It's like taking a photograph of your deals at a specific moment. In this mode, you see how your deals looked at a particular point in time, such as the end of a quarter. This can be useful for historical analysis, audits, or comparing how deals have progressed over different periods without interference from real-time changes.
Where to find it?
Aviso Platform > Deals > Actual Quarter-View <> Snapshot Quarter-View
How does it help?
The benefits of having access to the actual and snapshot quarter view -
Timely Decision-Making: Real-time data aids quick responses to market changes.

Historical Analysis: Insights from past performance inform future strategies.

Performance Tracking: Monitoring deal progress ensures revenue targets are met.

Strategic Planning: Both views help in crafting effective revenue-generating plans.

Compliance and Reporting: Snapshot View ensures regulatory compliance.

Data-Driven Leadership: Leaders can confidently communicate financial health.

Improved Forecasting: Comparing views enhances revenue forecasting accuracy.
6. Define Pursuit-Worthy Deals Better with Buyer Interest Score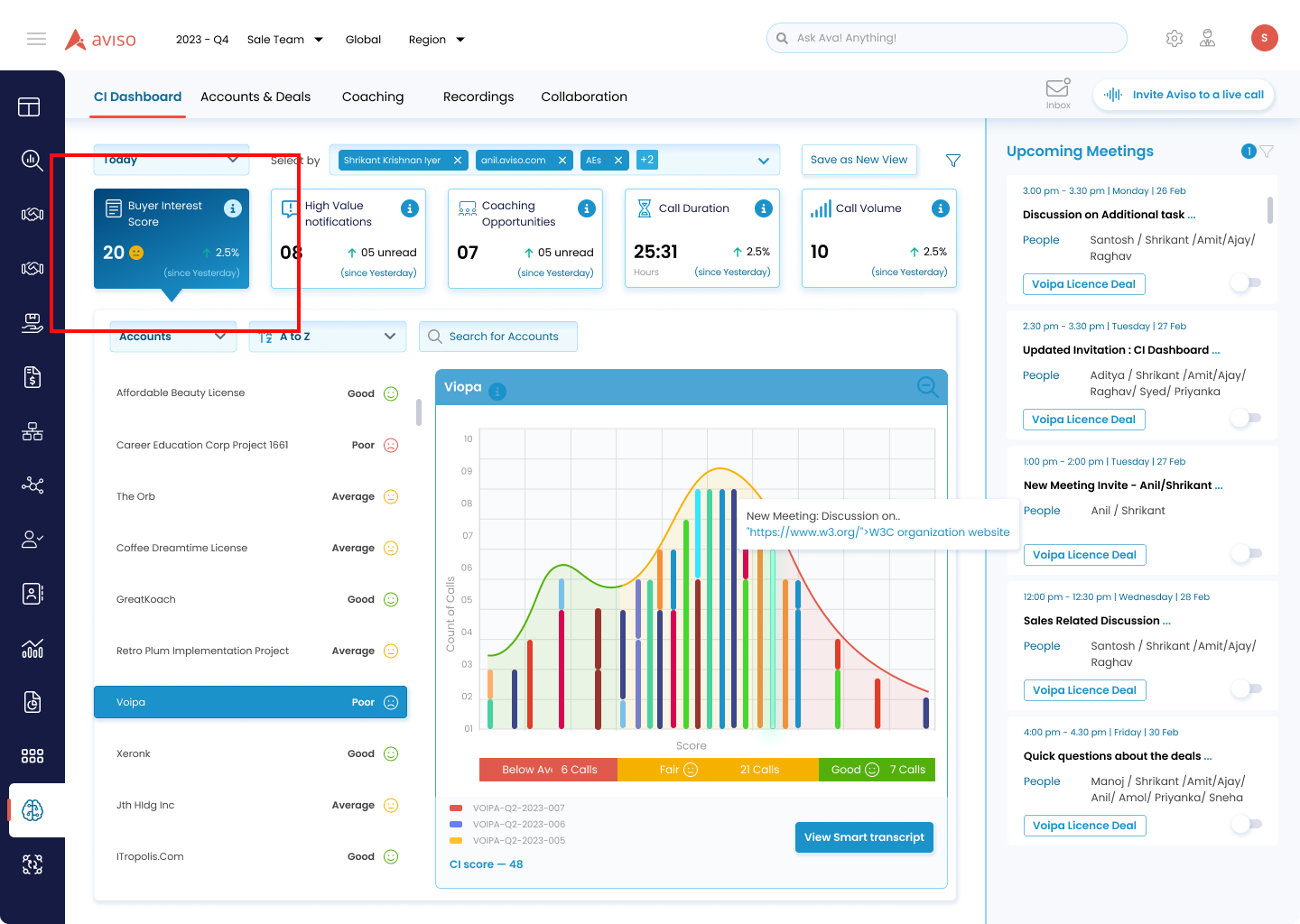 What is it?
Sales fundamentally hinges on precise timing, connecting with the right person with the right message at the right time. Historically, it's been a numbers game, reaching out to many prospects to find a few potential buyers, which can be frustrating and inefficient. Aviso's Buyer Interest Score helps sellers quantify prospective buyers' level of interest and likely purchase intent. It combines engagement, competitor, next step, and sentiment scores using a predefined formula to generate a single score. The score is then categorized into three buckets: Good, Average, and Poor.
Where to find it?
Conversation Intelligence > CI Dashboard > Buyer Interest Score
How does it help?
Tracking Buyer Interest Scores offers distinct advantages. Firstly, it enhances efficiency by enabling a more targeted approach, reducing the need to reach out to uninterested prospects. Secondly, it improves conversion rates by focusing on accounts showing higher interest and purchase intent. Lastly, the straightforward categorization of scores as Good, Average, or Poor simplifies decision-making, allowing for better resource allocation and more productive interactions with potential buyers.
Conclusion
The August 2023 upgrades are valuable additions to your workflow, improving your work and decision-making processes. Our team remains committed to actively incorporating your input and enhancing our solutions to meet your evolving needs. Stay tuned for what's coming to support your growth and success further.
If you aren't a customer yet, talk with our team now to see a demo of Aviso.