We're thrilled to present our latest enhancements to the Aviso AI platform, designed to revolutionize how you drive growth and optimize sales strategies. These updates are packed with powerful features and invaluable insights, ensuring you stay at the forefront of revenue optimization. From expanded metrics on the leaderboard dashboard to enhanced search capabilities and engaging grade insights, we've got you covered. Plus, get ready to visualize your pipeline flow like never before with our all-new waterfall chart.
Let's dive into the details and unlock the potential of your revenue streams!
1. Risky Deals Tackled Better with New 'Deal Movement' Metric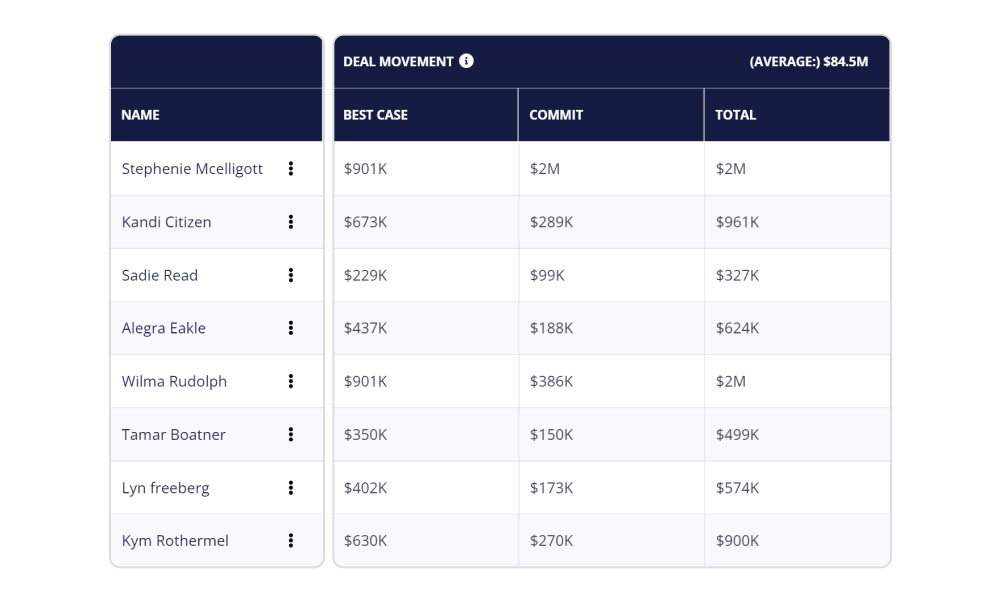 What is it? Deal Movement metric helps RevOps leaders track details of all the stagnant opportunities and the assigned rep, whose deal stages have stayed the same over 30 days. The total amount of inactive deals will be shown against every sales rep on the leaderboard. These stagnant deals can either be best-case or commit deals.
Where to find it?
Dashboard > Leaderboard Tab
How does it help?
Tracking Deal Movement gives Revops leaders and managers a drilled-down view of the risky deals by tapping into the rep-level factors that might dent the revenue. This further helps them to take timely corrective measures to get the pipeline flowing.
Additionally, the leaderboard serves as a single source of truth to identify the best and underperforming sales reps, which enables sales managers to provide targeted coaching and guidance to individual team members.
2.Know What's Going Right In A Deal With Positive Engagement Grade Insights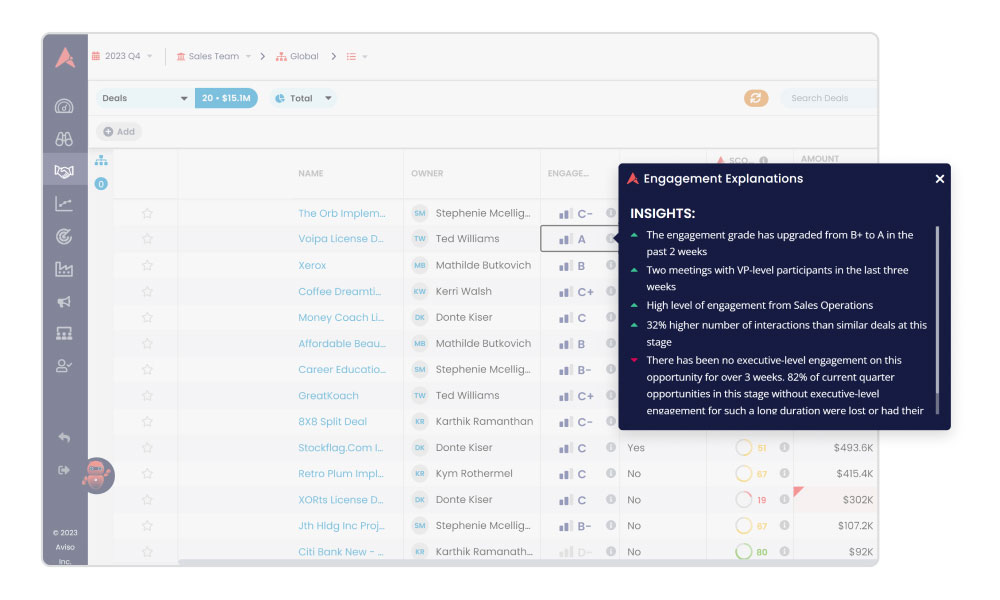 What is it?
Understanding the pitfalls of an ongoing deal is valuable to prevent losses. However, knowing the factors that lead to a successful deal is even more critical for ensuring a guaranteed closure.
That's why we have introduced positive engagement grade insights. With these insights, Aviso users can now understand what's working well in the deal. This adds to the negative engagement metrics reflecting the factors/actions stalling a deal.
Where to find it?
Deals > Engagement Grade Column
How does it help?
Deal engagement scores help the sales managers and reps gain a clear and quantifiable measure of the progress and potential of each deal. This enhances visibility into the sales pipeline, helps prioritize sales opportunities, and allows for better forecasting and resource allocation. Furthermore, the engagement scores help sales teams identify strengths and weaknesses in deals, enabling them to make informed adjustments and strategies to increase the chances of closing a sale. The patterns and trends in successful deals can be used to refine and optimize the sales process, enabling teams to replicate successful strategies and increase overall sales effectiveness.
3. View Pipeline Flow with Waterfall Chart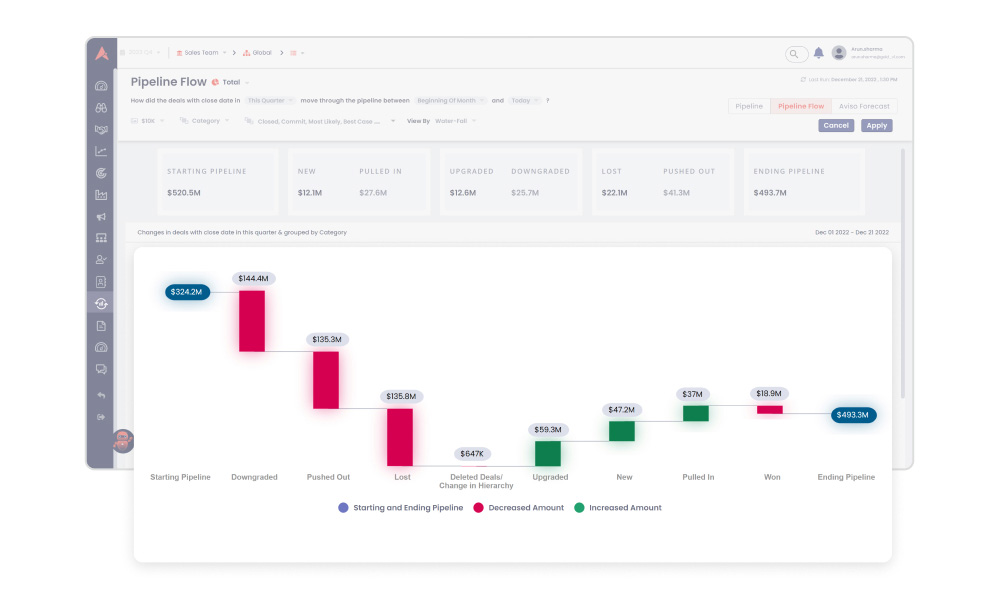 What is it?
RevOps leaders can now get a high-level overview of how potential bookings value moves into and out of your pipeline month-to-month or quarter-to-quarter using a waterfall chart representation.
The positive inputs indicate the addition of opportunity amounts to the initial pipeline, while negative values signify removing options from the pipeline. The resulting sum represents the remaining open pipeline amount.
Where to find it?
Analytics > Pipeline Flow > View Waterfall Chart
How does it help?
By tracking the sales pipeline waterfall metric, RevOps leaders can safeguard the company's overall revenue generation, track performance consistently over time, and receive notifications about significant changes that could impact the final sales outcomes of each period.
4. Aviso's Search Bar to View Rep Level Details
What is it?
All Aviso users can now access the information at the lowest level of the hierarchy by simply typing the query in a search bar. For instance: You want to review the number of opportunities that Max Tarasevich rep handles. You simply type Max in the search bar, and his deal data is available.
Where to find it?
The search bar is located in the top right corner of the main screen
How does it help?
With many nodes in the hierarchy branch, it gets difficult to navigate to the rep/lowest level of the hierarchy. The search option eliminates the hassle of manually drilling into the granular data.
In conclusion, April and May 2023 have been significant for Aviso. We have made substantial advancements in empowering businesses with actionable insights and best-in-class feature upgrades. We remain committed to innovation and customer satisfaction as we continue to shape the future of revenue intelligence. We can't wait for you to try out all these exciting new capabilities and see their positive impact on your sales results.
If you aren't a customer yet, talk with our team now to see a demo of Aviso .