Dreamforce 2023 has drawn its curtains, and the world of sales technology and AI has been buzzing with insights, innovations, and connections. For those of us at Aviso AI, the event served not just as a platform to share and learn but also to solidify our commitment to revolutionizing the sales tech landscape with the power of Generative AI.
72 hours of strategic salon discussions at the Palace Hotel
Right from Day 1, Aviso AI's presence at the iconic Palace Hotel set the stage for what was an exciting three-day rollercoaster. The enthusiasm was palpable, especially with our digital trucks stationed around Dreamforce — an unmissable sight!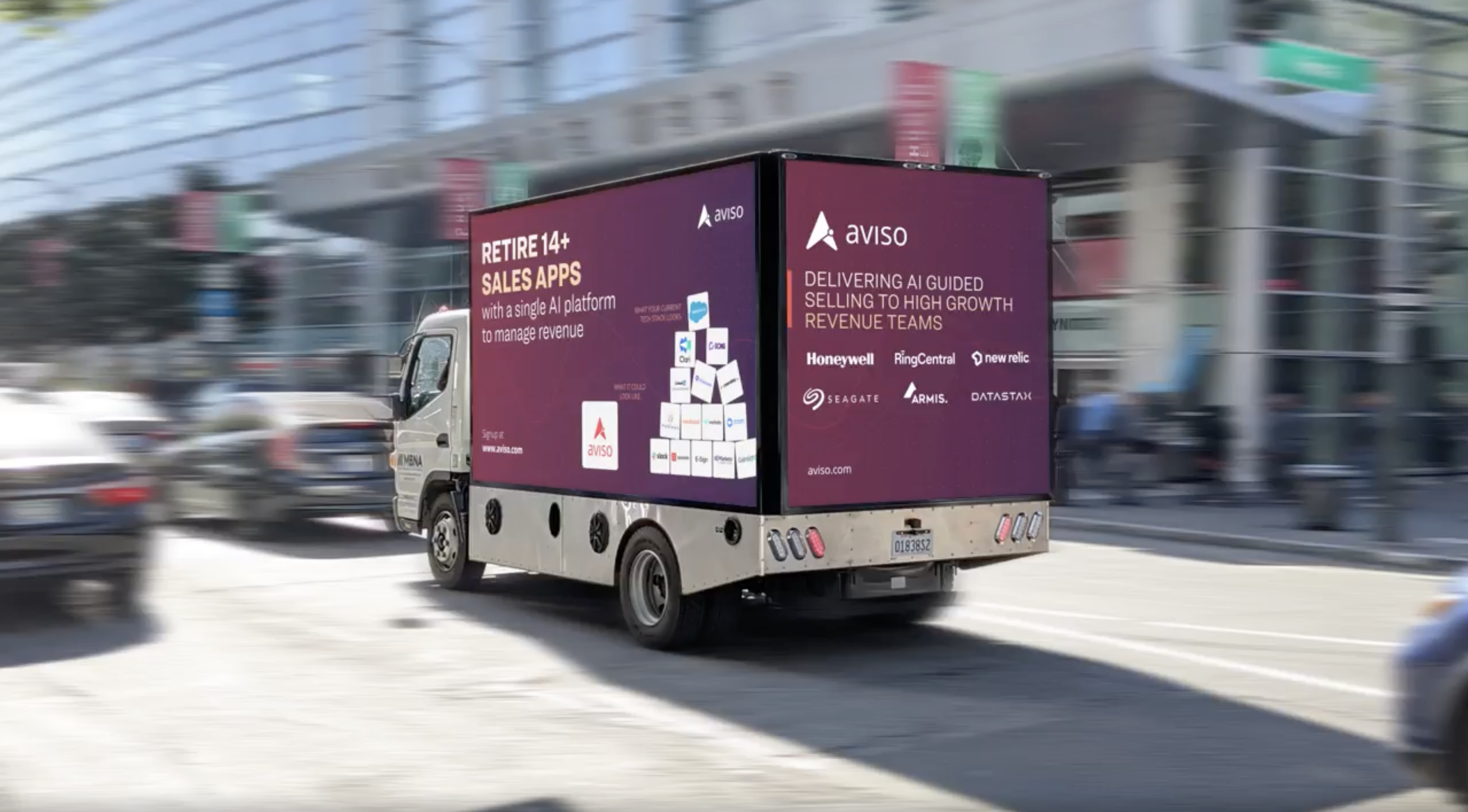 The highlight of day 1 was the enlightening interview where NYSE's Judy Khan Shaw engaged with Aviso's CEO Trevor Rodrigues Templar on how Aviso's AI generated more than $150 million in new revenue for Honeywell and the benefits seen from deploying MIKI, our AI Chief of Staff.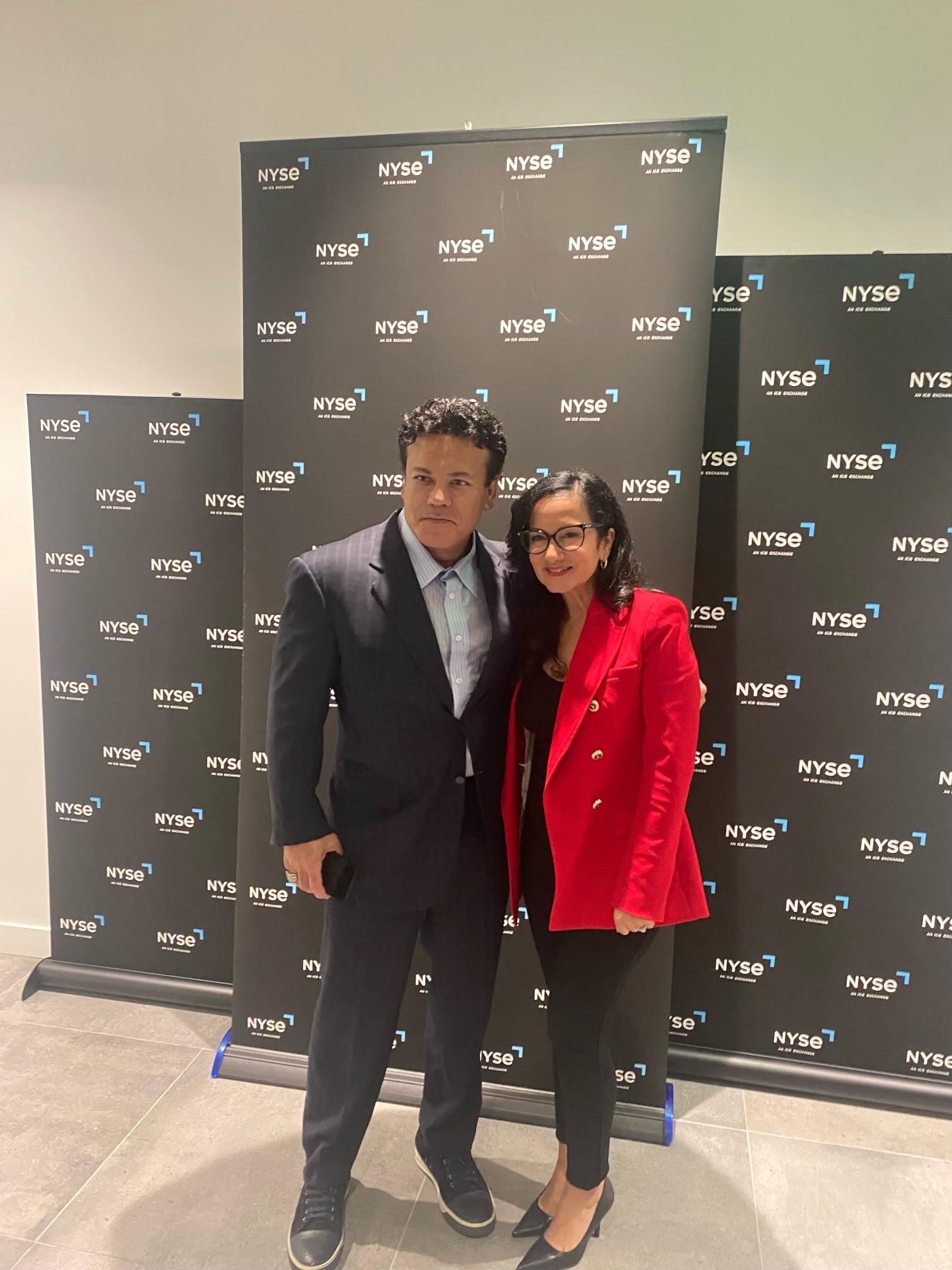 MIKI, Aviso's AI Chief of Staff — The Showstopper
MIKI, the industry's first AI Chief of Staff for revenue and GTM teams, was undeniably a show-stealer. MIKI helps deliver personalized decision-making at scale, leveraging Aviso's unique knowledge graph for each industry, customer, persona, and individual user. Through MIKI, teams can access instantaneous insights, bridge pipeline gaps, and even infuse deal contexts into emails.
Industry stalwarts who saw MIKI in action in a detailed demo, including Reddy Mallidi, Frank Borovsky, and Claus Moldt, all hailed MIKI as a game-changer, transforming how businesses perceive AI-driven insights, sharing their expert perspectives from their past work at FICO, Salesforce, and Autodesk. MIKI's capabilities in ensuring data privacy with stringent security features while simultaneously being a trusted business companion generated significant buzz.
Additionally, other ecosystem members ranging from Fortune 500 leaders like Amazon and Cisco and high growth companies like Nextech shared with us several new use cases where Gen AI can guide sales strategies and decision-making processes. The insights shared underscored AI's role as a sensemaking tool, turning vast amounts of data into actionable insights.
As companies are pivoting from seasoned Account Executives (AEs) to newer, younger reps, there's a significant need to reduce the ramp-up time. MIKI, with its Gen AI integrated models, is aiding companies to onboard their sales reps faster and more efficiently. The intelligent integration that MIKI offers, enables younger AEs to harness the company's vast assets and data more effectively, significantly optimizing their sales processes and productivity.
Click here to learn more about MIKI!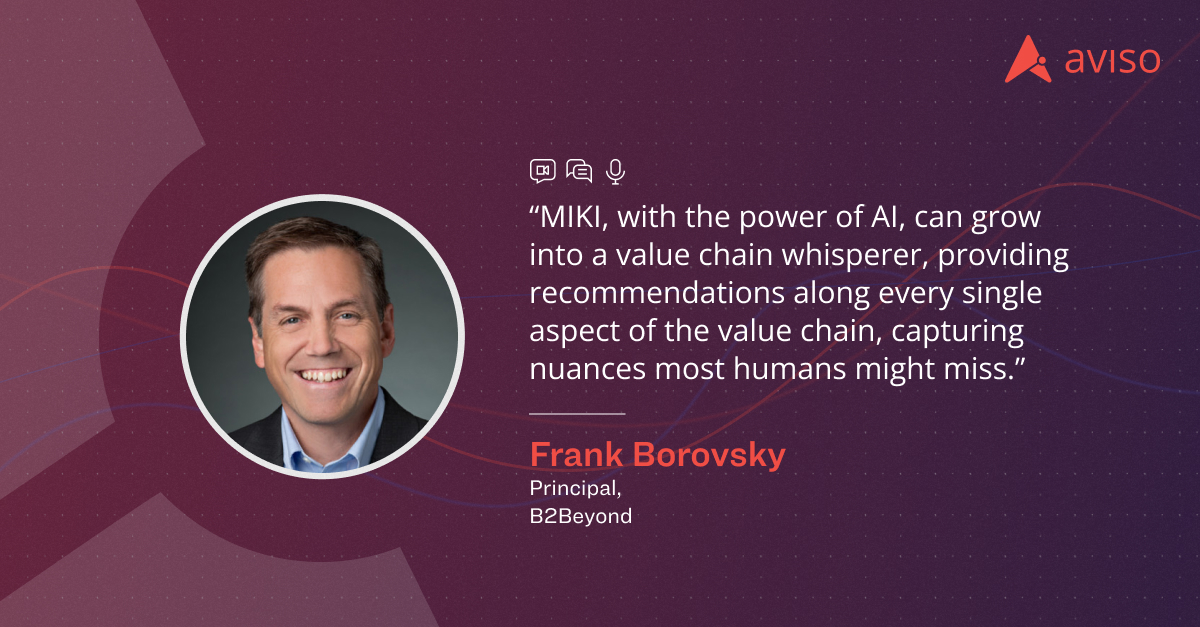 Review of analyst discussions on sales tech
We had an opportunity to spend quality time with Gartner's leading analysts Keith Jones and Dan Gottlieb.
Here are some of our key takeaways from the discussions:
Dan shared that the most adopted generative AI use cases are the ones that are able to provide quick productivity gains for sales reps for value messaging. Gartner found that currently, more than 50% of a seller's time each day is spent on value messaging, research, and creation. This led to a good discussion on similar observations we've had with

Aviso's earnings call analysis

.

How much time can be saved using generative AI on a weekly basis? The answers range from 10-15 hours to even more. Even the conservative estimate of 12 hours more saved per week is the equivalent of having a 15-month selling year!

Along with productivity gains,

sales stack consolidation

was one of the areas that Gartner observed as most attractive to CEOs. Nowadays, consolidation is not just about optimizing budgets but also about simplifying daily sales tasks, reducing admin busywork, and ensuring revenue clarity for all GTM members.

Keith emphasized the essential shift in the sales tech ecosystem towards a

seller-centric approach

. It's now less about tools that merely confirm task completion and more about tools that genuinely assist in job execution, resonating with the theme of technology as a teammate rather than just a tool.
Our discussions spanned sales tech, generative AI, and more.
Review of technology tradeoffs with Generative AI
Our leadership team engaged in a series of engaging discussions aimed at deciphering the nuances of implementing Gen AI within sales applications, whether it's for an established player or a new entrant. Several key insights emerged:
Instead of being bound by a 100% OpenAI or an exclusive

open-source LLM

framework, the consensus leaned towards the superiority of a hybrid generative AI architecture over solely adopting an LLM-only approach.

Claus Moldt

, the former CIO of Salesforce, contributed valuable insights on this topic. He emphasized the benefits of employing different LLMs for different tasks instead of relying solely on a one-giant LLM.

A significant topic of our discussion revolved around '

stochastic parrots

' — large language models proficient at crafting authentic-sounding language but lacking a genuine grasp of the semantics they process. The implications are significant, especially for sales applications where the risk of misinforming a salesperson with an inaccurate response could be detrimental. This further accentuates the challenges and potential pitfalls of relying heavily on LLMs without scrutiny.

Additionally, the conversation touched upon Salesforce's adoption of

Homomorphic encryption

. This advanced encryption form allows for operations on encrypted data, but like all techniques, it comes with its own set of trade-offs. Our CEO,

Trevor A. Rodrigues-Templar

, and

Frank Borovsky,

former VP at Salesforce, delved into the industry implications of such advancements, emphasizing how the combination of accurate data, strong prompts, and secure AI can help customers go from reporting the news to predicting and making the news.
Review of next-gen seller-centric technologies
One of the undoubted highlights was our team joining an eclectic group dinner organized by Humantic AI. Engaging with industry mavens like Amarpreet Kalkat and Manisha Raisinghani and Henri Richard and Stephen DiFranco (both of Gartner) led to some interesting discussions on the future of buyer and seller technologies, including:
Personality assessment tools such as Humantic (DISC analysis-based) are becoming more popular in the seller technology stack.

Ultimately, selling happens between people no matter how much tech is applied. Aviso's Shaun Siler shared his successful playbook for securing new in-person interactions in the middle of Dreamforce and through open community events. While emphasizing the importance of trust, engagement, and community in boosting sales endeavors, Shaun highlighted the irreplaceable value of face-to-face interactions and the magic they can bring to sales prospecting.
Wrapping Up
The buzz at Dreamforce 2023 revolved around the untapped potential of AI, with industry leaders eagerly seeking immediate, tangible improvements over long-term theoretical promises. New startup are also scouting for opportunities to augment buyer-seller journeys.
Interestingly, even with a quarter-century of CRM history, fundamental challenges like forecasting, AI integration, and time management for sales reps remain unsolved. This realization presents an exciting avenue for innovation, reminding us of the unresolved territories in the realm of sales technology.
Trust in AI emerged as a pivotal theme; the call was clear — AI solutions must be transparent and not mere black boxes. While macroeconomic challenges persist across the board, the essence of Dreamforce reaffirmed the enduring value of networking and forging relationships.
As Dreamforce 2023 concludes, it's not just about celebrating the success of a grand event but setting sights on what lies ahead. The discussions, insights, and collaboration of these few days will undoubtedly shape the trajectory of sales tech in the months and years to come.
Apart from the stellar panel discussions, Aviso AI's deep commitment to innovation was evident through its branding campaign debut. The brand celebrated its cherished association with industry giants such as Armis, RingCentral, and New Relic.
As Aviso AI continues its journey, armed with generative AI and a passion for sales transformation, the horizon looks promising and the future revolutionary.
To all those who joined us, collaborated with us, and believed in our vision at Dreamforce 2023, we say, "Thank you!" Here's to more such groundbreaking moments in the future!